Lexington, Mass., April 14, 2021 – FUJIFILM Medical Systems U.S.A., Inc. – a leading provider of endoscopic and endosurgical technologies, today announced the launch of the G-EYE® 700 Series Colonoscope.  G-EYE® is a technology developed by Smart Medical to assist with visualization, stabilization and control during routine examinations. In published clinical studies G-EYE® has been shown to improve polyp detection when compared to standard colonoscopy.1 Launching the G-EYE® 700 Series line of Colonoscopes expands Fujifilm's innovative colonoscope portfolio offering.
"Even the most skilled endoscopists face procedural challenges as a result of their patients' unique and individual anatomies, making it difficult to provide a complete examination," said Taisuke Fujita, General Manager Endoscopy, FUJIFILM Medical Systems U.S.A., Inc. "Together with Smart Medical, we're excited to deliver endoscopists a solution that assist in visualization, positioning and stabilization."
G-EYE® will be offered as an extension to the in-market 700-series colonoscope family, with an integrated balloon at the bending section of the colonoscope that can be reprocessed and reused.  The innovative design of the Fujifilm colonoscope is otherwise unchanged, and insertion can be performed as usual with the balloon deflated. On demand, the reusable balloon can be inflated to flatten the colonic walls, stabilize the scope in the center of the lumen, to help maintain the field of view during examination, and assist in visualization of the mucosal surface.  Stabilization of the endoscope also allows for a more controlled withdrawal and can assist during therapy.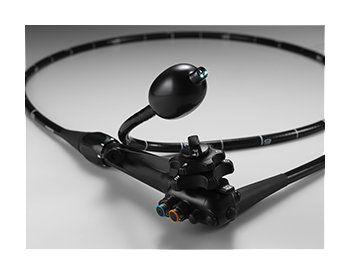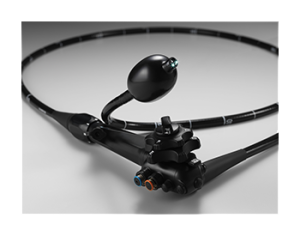 G-EYE® is currently in use at New York University (NYU) Langone, and is being evaluated at Brigham and Women's Hospital.
"We are excited to be one of the first centers in the country evaluating this innovative technology," said Dr. Linda Lee, Medical Director of Endoscopy at Brigham and Women's Hospital. "The G-EYE® system was implemented seamlessly for everyday use, and early feedback from our physicians has indicated a number of promising benefits, including improved stability and visualization during withdrawal."
Installation at other leading academic hospitals and a number of key ambulatory surgery centers will occur in the coming weeks.
G-EYE® 700 Series Colonoscopes are compatible with Fujifilm's ELUXEO® endoscopic video imaging system. ELUXEO's Linked Color Imaging (LCI®) mode is an image enhancement tool that increases contrast to improve detection of lesions and enable more accurate delineation. LCI has been clinically proven to enhance adenoma detection rate.2
Contact your Fujifilm representative or submit a request here to learn more about G-EYE®.
1- Clinical Evidence: Shirin, H. et al. G-EYE colonoscopy is superior to standard colonoscopy for increasing adenoma detection rate: an international randomized controlled trial (September 2018 Gastrointestinal Endoscopy 89(3) DOI: 10.1016/j.gie.2018.09.028) Halpern, Z. et al. Comparison of adenoma detection and miss rates between a novel balloon colonoscope and standard colonoscopy: a randomized tandem study (Endoscopy 2015; 47(03): 238-244 DOI: 10.1055/s-0034-1391437)
2- Akira Horiuchi, Ichitaro Horiuchi, Sa1993 LINKED COLOR IMAGING OR WHITE-LIGHT COLONOSCOPY FOR THE DETECTION OF FLAT COLORECTAL LESIONS: A RANDOMIZED CONTROLLED TRIAL, Gastrointestinal Endoscopy, Volume 91, Issue 6, Supplement, 2020, Page AB232, ISSN 0016-5107, https://doi.org/10.1016/j.gie.2020.03.1768
About Fujifilm
FUJIFILM Medical Systems U.S.A., Inc. is a leading provider of innovative diagnostic imaging products and medical informatics solutions that meet and exceed the evolving needs of healthcare facilities today and into the future. It's ever expanding medical imaging solutions span digital radiography (DR), detectors, portables and suites, mammography systems with digital breast tomosynthesis, computed tomography solutions for oncology and radiology applications, technologically advanced flexible and surgical endoscopy and fluoroscopy solutions. Fujifilm enables interoperability through its Systems Integration offering as well as its comprehensive, AI-supported Synapse® Enterprise Imaging portfolio, which includes the TeraMedica Division of Fujifilm. Fujifilm's in vitro diagnostics (IVD) portfolio includes clinical lab reagents, and biomarkers to assess the risk for the development of hepatocellular carcinoma in patients with chronic liver disease. FUJIFILM Medical Systems U.S.A., Inc. is headquartered in Lexington, Massachusetts. For more information please visit healthcaresolutions-us.fujifilm.com.
FUJIFILM Holdings Corporation, Tokyo, Japan, brings cutting edge solutions to a broad range of global industries by leveraging its depth of knowledge and fundamental technologies developed in its relentless pursuit of innovation. Its proprietary core technologies contribute to the various fields including healthcare, graphic systems, highly functional materials, optical devices, digital imaging and document products. These products and services are based on its extensive portfolio of chemical, mechanical, optical, electronic and imaging technologies. For the year ended March 31, 2020, the company had global revenues of $22.1 billion, at an exchange rate of 109 yen to the dollar. Fujifilm is committed to responsible environmental stewardship and good corporate citizenship. For more information, please visit: www.fujifilmholdings.com.
Contact:
Danielle Brown
danielle.brown@fujifilm.com
914-574-3273