Legacy Emanuel's Emergency Clinicians Rely on the FDR Go & Virtual Grid to Make the Right Treatment Decisions Quickly and Safely
The imaging team at Legacy Emanuel Medical Center, a full-status Level 1 Trauma Center in Portland, OR, is reducing image acquisition time, lowering patient radiation dose, and delivering high quality images that help emergency clinicians save lives with the installations of Fujifilm's FDR Go and Virtual Grid.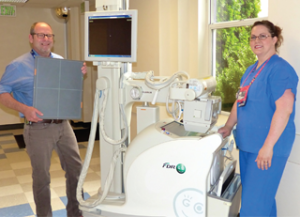 "Our emergency physicians and surgeons require a durable, easy to use, portable unit that delivers the highest level of imaging to make the right treatment decisions quickly and safely, there is no room for compromises."

Tommy Williams RT(R)(CT). ARRT, Manager of Imaging Services at Legacy Emanuel Medical Center
After evaluating six vendors and a variety of solutions, Williams chose three Fujifilm FDR Go portable DR systems and the Virtual Grid and in February 2015 implemented them in the adult ER/trauma unit at Legacy Emanuel.
Now the ER/trauma team uses the Virtual Grid feature in 90% of all portable chest exams and 75% of abdomen exams.
Techs save approximately 10-12 minutes on every acquisition without compromising image quality in their 24/7 ER.
Study repeat rates have dropped from 8% to 4.2% today with a target of 2%.
The team reduced dose by 30% after the move from CR to DR and by 17% when they transitioned from another vendor's DR to Fujifilm's FDR Go.
To learn how Legacy Emanuel's team is taking advantage of the FDR Go and Virtual Grid to improve patient care when every second counts, download the complete story: