Total Cord-Free Operation
Onboard battery power for up to 8 hours of completely wireless operation. Battery powered fluoroscopy and x-ray exposures removes the need for power mid-procedure for improved cable management in crowded OR's while allowing for rapid repositioning for emergency and ICU use.
Large Imaging Area
The FDR Cross offers up to twice the imaging area of standard c-arm solutions with detector sizes of up to 17×17 inches. Additional coverage allows for full field visualization throughout operating procedures, matching the coverage possible on pre and postoperative x-ray imaging. Smaller imaging areas can be selected on demand for reduced patient dose.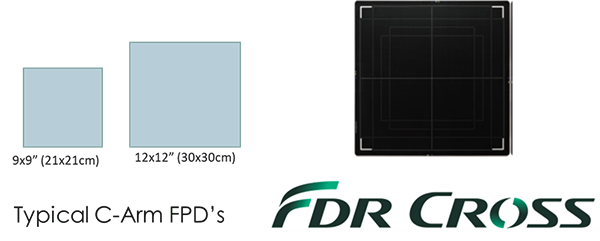 Removable and interchangeable detectors
Advanced fluoroscopic and radiographic image quality powered by Fujifilm's FDR D-EVO III line of digital flat panel detectors. Choose from 17×17", 14×17" and 10×12" flat panel sizes in a removable standard-sized formats for convenient free positioning use. A single FDR Cross can also be configured with additional wireless FPD's for improved portable imaging workflows, or even with multiple fluoroscopic imaging housings to allow for exchange of panel sizes between cases in accordance to clinical imaging needs.