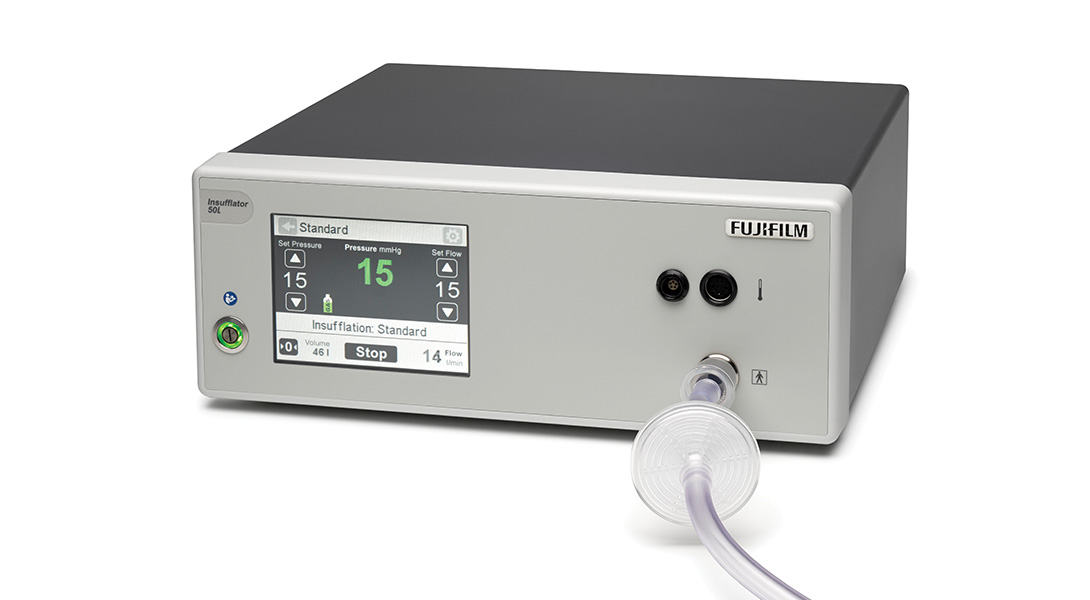 The reliable Fujifilm FM134 CO2 50L‑Insufflator is engineered to deliver a flow of up to 50 liters of CO2 per minute, features a pressure range of 1‑30 mmHg, and operates at a frequency of 50‑60Hz.
Ideal for use during minimally invasive diagnostic and/or therapeutic endoscopic procedures, the FM134 features three additional modes engineered to support bariatric, pediatric, and vessel harvesting patients. These modes are indicated to fill and distend a peritoneal cavity with gas during laparoscopic procedures. In pediatric or vessel harvesting mode, the insufflator optimally controls according to different anatomical requirements.
The Fujifilm FM134 also boasts an intuitive color touchscreen designed for ease of use, and features a pressure relief system and integrated fluid sensor. A connector for standard insufflation tube sets, and disposable and autoclavable tube sets are also available.
PRODUCT FEATURES
Bariatric Mode to support thicker and heavier skin
Higher driving pressure
Flow rates up to 50 l/min
Pediatric Mode for neonatals and infants
Insufflation control adapted to the special environment
Fine flow adjustment
Integrated gas heating
Vessel Harvesting Mode to support EVH instruments
Adapted insufflation control for elongated space around vessel
System Flexibility
Different tube sets – reusable and disposable – are available to maximize the system flexibility
Additional Features
Controlled gas heating with integrated gas heater to prevent hypothermia and to reduce post-operative pain well as to prevent endoscope fogging
Useful Presets
Preconfigured settings for fast and reliable operation
Default settings can be adjusted in the user menu and aligned to the surgeons needs
Clear and intuitive touch-screen interface designed to enhance user experience