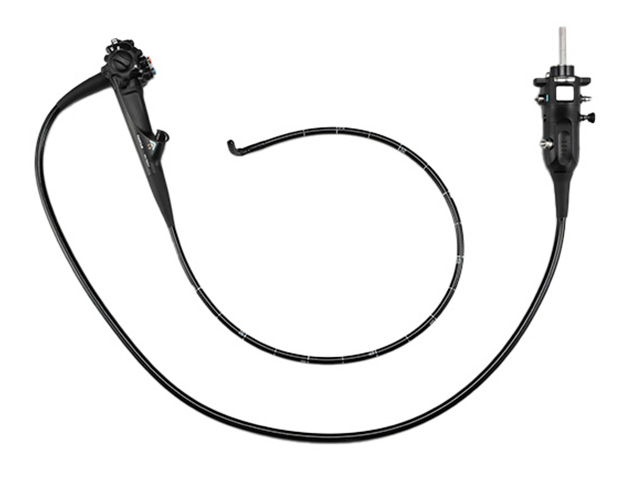 Fujifilm's comprehensive line of ELUXEO® 700 Series Colonoscopes leverages the power of LED Multi-light technology to provide endoscopists with unparalleled visualization capability, exceptional maneuverability, and control to streamline access and enable optimal detection in both routine and complex procedures.
Fujifilm's comprehensive line of LED-empowered colonoscopes includes:
EC-760R-V/L Standard "Hybrid" Colonoscope
EC-760P-V/L Slim Colonoscope
EC-740T/L Ultra-Slim Colonoscope
EC-760S-V/L Adult Colonoscope
EC-760Z-V/L Zoom Colonoscope
EC-760ZP-V/L Zoom Slim Colonoscope
EI-740D/S Dual Channel Endoscope*
G-EYE® 760R-V/L G-EYE Hybrid Colonoscope
G-EYE® 760P-V/L G-EYE Slim Colonoscope
G-EYE® 760S-V/L G-EYE Adult Colonoscope
Fujifilm's ELUXEO 700 Series Colonoscopes are designed to make driving to the cecum easier for endoscopists. With a lighter control section, reduced angulation torque, and control body ergonomics all designed for comfort and performance.
Fujifilm 700 series colonoscopes are resilient — from the distal tip to the proximal shaft — providing increased stiffness when approaching the hepatic flexure. The advanced construction and materials used to manufacture ELUXEO 700 Series Colonoscopes reduce the potential for mechanical breakdown and associated maintenance.
* The Fujifilm EI-740D/S Dual Channel Scope is the first dual channel scope FDA-cleared for use in both upper and lower GI applications.